[ad_1]

(Bloomberg) — The U.S. and allies are poised to announce new sanctions, including a ban on all new investments in Russia, to punish the Kremlin for alleged atrocities against civilians committed by its forces in Ukraine. 
Ukraine President Volodymyr Zelenskiy urged the United Nations to do more to stop Moscow's aggression, saying Russia was abusing its veto powers at the Security Council to block peace efforts. Russia has repeatedly denied the accusations of killing civilians, which have been documented and sparked international condemnation.
The Biden administration is sending another $100 million in military equipment to Ukraine, which is expected to include Javelin anti-tank missiles. Russia's default risks rose after the U.S. Treasury blocked the use of the country's accounts at American banks to make dollar debt payments.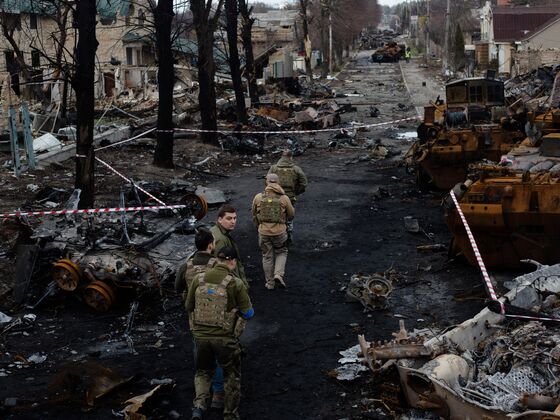 (See RSAN on the Bloomberg Terminal for the Russian Sanctions Dashboard.) 
Intel Suspends Business Operations in Russia (3:27 a.m.)
Intel said it has suspended all business operations in Russia following its earlier decision to suspend all shipments to customers in Russia and Belarus.
U.S. to Send More Military Aid (2:51 a.m.)
The U.S. is sending another $100 million in military equipment to Ukraine, the White House announced. The money will go toward purchasing more Javelin anti-tank missiles for the Ukrainian military, according to a White House official who requested anonymity to describe the new shipment.
Javelin missiles have been effective against Russian armored vehicles during the six-week-long invasion and Ukrainian leaders have continued to request them from the U.S. The weapons are being sent after Biden administration warned Russia is repositioning forces from around Kyiv to prepare for a renewed assault on areas in eastern and southern Ukraine.
Combined with $300 million in assistance announced by the Department of Defense on April 1, the new aid brings total U.S. assistance to $1.7 billion since the start of Russia's invasion in late February, Secretary of State Antony Blinken said in a statement. 
Oil Sinks Toward $100 (2:13 am.)
Oil fell as the European Union eschewed sanctions on Russian oil flows for now and a stronger dollar blunted the appeal of commodities.
West Texas Intermediate sank below $101 a barrel in early Asian trade after retreating 1.3% on Tuesday. While the EU will press on with additional penalties against Moscow for the war in Ukraine, including a ban on coal, crude won't yet be targeted. European Commission President Ursula von der Leyen said the bloc will push ahead with a debate among members on targeting Russian oil.
Wheat Jumps on Concern Over Exports (11:30 p.m.)
Wheat prices jumped for a second day, rising 3.5% in Chicago trading, as concern about export routes from Ukraine added to a drought in the U.S. 
Grain export potential from Ukraine under current conditions "is limited to 1 million tons per month," about one-fifth of the normal level, according to Kyiv-based analyst UkrAgroConsult. Ukraine blames Russian forces for blocking the shipping routes. The Russian defense ministry accused Kyiv of refusing to allow more than 60 foreign vessels to leave Ukrainian ports, Tass news agency reported. 
Russia Default Risks Rise as Treasury Blocks U.S. Accounts (10:15 p.m.)
Russia's efforts to avoid a sovereign default took another blow after the U.S. Treasury halted dollar debt payments from the country's accounts at U.S. banks.
The announcement is intended to force Russia into either draining its domestic dollar reserves or spending new revenue to make bond payments, or else go into default, according to a spokesperson for the Treasury's Office of Foreign Assets Control. The price of insuring Russia's debt jumped on Tuesday, signaling an almost 90% chance that it will default within five years
U.S. Military Training Ukrainian Soldiers in New Weaponry (8:35 p.m.)
The U.S. military is training Ukrainian soldiers, including some who are in the U.S., on how to use the sophisticated equipment they are receiving, Defense Secretary Lloyd Austin told a U.S. House panel on Tuesday. 
There is no training inside Ukraine or Poland, General Mark Milley, the chairman of the Joint Chiefs of Staff, said at the same hearing. Among the latest equipment being sent to Ukraine are the newest-model Switchblade drones armed with tank-busting warheads.
Ukrainian Officials Detail More Atrocities in Bucha (7:24 p.m.)
Ukrainian law enforcement officials are investigating the torture and killing of six people by Russian troops in the town of Bucha, the Prosecutor General Office said. Russian soldiers set the bodies on fire and they were later found near a pile of garbage, it said.
Ukrainian Ombudsman Lyudmyla Denysova said she and Bucha officials, along with journalists, "inspected the terrible results" of Russia's atrocities – a huge 14-meter (15 yard) mass grave where 150 to 300 victims were buried. Prosecutors are seeking exhumation orders to open the mass graves in Bucha and law enforcement officers are examining the bodies.
U.S., Allies to Impose New Sanctions (6:58 p.m.)
The U.S., European Union and G-7 countries will announce a new round of sanctions on Russia to punish the Kremlin for atrocities in Ukraine, including a ban on all new investments in the country, according to a U.S. official with direct knowledge of the matter.
The governments will also increase sanctions on financial institutions and state-owned enterprises in Russia, as well as sanctioning unspecified Russian officials and their family members, the official said. 
Zelenskiy Aide Says Talks to Move Forward Despite Bucha Events (5:48 p.m.)
Direct negotiations between Russia and Ukraine must press forward despite alleged war crimes committed against civilians in the northern town of Bucha "because we want peace," Ihor Zhovkva, Zelenskiy's deputy chief of staff, said in an interview with Bloomberg Television. Kyiv has repeatedly requested a direct meeting between Zelenskiy and Putin but Zhovkva now said that "will be difficult."
Zelenskiy Urges UN to Strip Russian Veto (5:20 p.m.)
The United Nations should remove Russia's veto power to block action halting the Kremlin's assault against Ukraine, or overhaul its system to ensure peace, Zelenskiy told the body in New York. Otherwise, the UN Security Council should "disband itself."
"Either remove Russia as the aggressor and the source of the war from blocking decisions regarding its own aggression — its own war — and then do all that's possible to renew peace," Zelenskiy told the chamber by video link. "Or show how one can truly reform itself."
Russia, which has veto power as one of five permanent members of the Security Council, blocked an attempt by the 15-member body in February to strongly condemn its invasion of Ukraine and call on Moscow to withdraw its troops.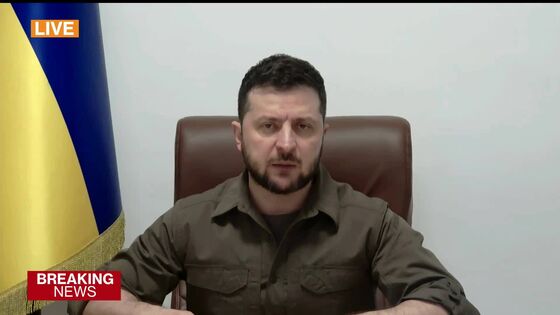 U.S. Considers Permanent Bases in Eastern Europe (4:20 p.m)
The head of the U.S. Joint Chiefs of Staff, General Mark Milley, said the U.S. is considering the possibility of establishing permanent, forward-deployed bases in eastern Europe to help bolster NATO. The facilities would be staffed by rotating forces, as opposed to having a permanent troop presence, he said.
Testifying to a House committee, Milley and Defense Secretary Lloyd Austin said anti-armor and anti-aircraft weaponry has been the most effective at helping Ukraine's military. In addition, drones and secure tactical radios supplied to Ukraine's forces over several years have aided that effort, they said.
Milley called Russia's nuclear rhetoric — including putting its nuclear forces on a higher alert — "very provocative," adding "we are entering a world that is becoming more unstable."
Germany Ready to Back Halt to Russian Coal Imports (2:30 p.m.)
Germany, which has resisted efforts to embargo Russian energy because of the collateral damage it could cause, is ready to consider phasing out Russian coal imports and is in talks with the EU about the timing, according to a German official with knowledge of the discussions.
"The European Union will completely phase out fossil energy dependence on Russia, starting with coal, then oil and then gas," Foreign Minister Annalena Baerbock said in Berlin. Germany has limited natural resources of its own and is heavily dependent on Russian energy imports.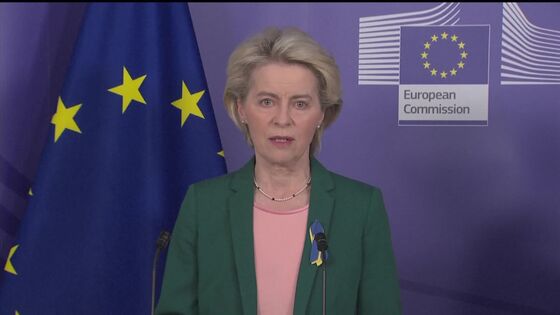 EU Mulls Sanctioning Putin's Daughters (5:15 p.m.)
It would be part of a sanctions package the EU is considering this week, according to people familiar with the matter. Targeting Putin's daughters, Katerina and Maria, is largely a symbolic move since it's unclear they have significant assets outside of Russia, but it's designed to get the president's attention.
The proposed list, which still needs to be approved by European governments and could change before that happens, includes dozens of other individuals, including political figures, tycoons and their family members, and several propagandists.
Kremlin Condemns Biden 'Insults' Aimed at Putin (1:30 p.m.)
A Kremlin spokesman said the continuation of what he called personal insults directed at Vladimir Putin by Joe Biden is "unacceptable and we consider it unworthy of the president of the United States."
Spokesman Dmitry Peskov was speaking to reporters on a conference call and responding to a question about Biden labeling the Russian leader a war criminal. Peskov reiterated the Kremlin's denial that Russian troops were responsible for war crimes against Ukrainian civilians, calling the evidence a "well-staged, tragic show."
EU to Propose Ban on Russian Coal (11:55 a.m.)
The EU is planning to propose a mandatory phaseout on coal imports from Russia in a direct response to reports that Russian forces committed apparent war crimes in Ukraine, according to people familiar with the matter. Stocks in Europe erased gains and U.S. equity futures turned lower. Coal futures in Europe jumped to a three-week high.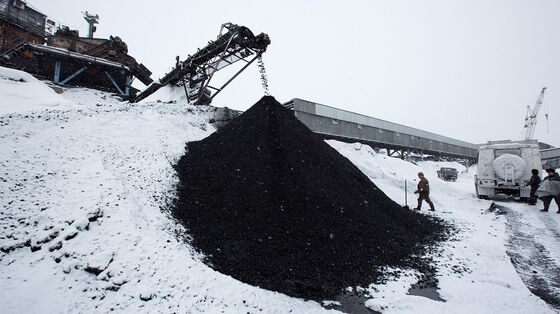 The action on coal would be added to a package of steps aimed at strengthening existing measures and correcting loopholes that was already set to be debated this week by EU ambassadors. The details of the ban and the timing of the coal phaseout are still under discussion, the people said. The European Commission is also expected to propose banning most Russian trucks and ships from entering the bloc.
European Nations Expel Russian Diplomats (11:25 a.m.)
Italy has expelled 30 Russian diplomats for national security reasons, according to foreign minister Luigi Di Maio.
The move mirrors similar announcements made by Germany, France and several other EU countries, which in recent days expelled Russian diplomats with suspected links to spy agencies in response to the killing of civilians in the town of Bucha. Moscow denies its forces killed civilians in Bucha or other towns.
Von Der Leyen to Meet Zelenskiy in Kyiv (10:51 a.m.)
Von der Leyen will visit Ukraine's capital this week to meet Zelenskiy. It's the most high-profile visit by Western officials to Ukraine since Russia invaded on Feb. 24.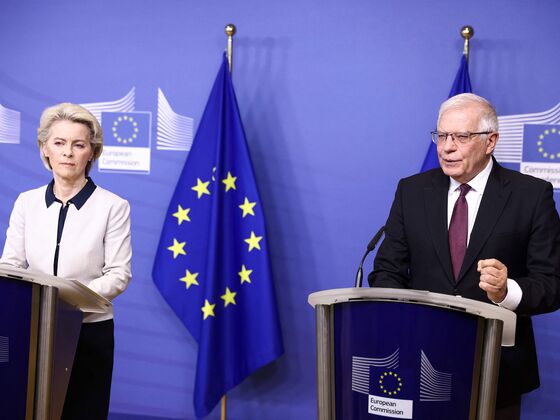 Ukraine Seeks Turkish Help in Mariupol (10:28 a.m.)
Ukraine has asked Turkey to help it evacuate the dead and wounded from the besieged port of Mariupol, Zelenskiy told local reporters Tuesday. 
"We were looking for a middleman who will be accepted by the occupants," Zelenskiy said. Turkey is ready to help transport casualties by ship from the port of Berdyansk, which is also occupied by Russian troops, as the fighting makes it impossible to approach Mariupol, he said. Ukraine was waiting for Putin's response to the plan. 
Russia Business Activity Contracts (9:11 a.m.)
Russia's private sector suffered "substantial declines" in activity last month as the impact of sanctions over the invasion of Ukraine and the plunge in the ruble triggered the sharpest drop in operating conditions since the Covid-19 lockdowns in 2020, according to S&P Global.
The Russia Composite PMI index fell to 37.7 in March from 50.8 in the previous month, S&P said in a survey published Tuesday, with both services and manufacturing companies reporting sharp declines.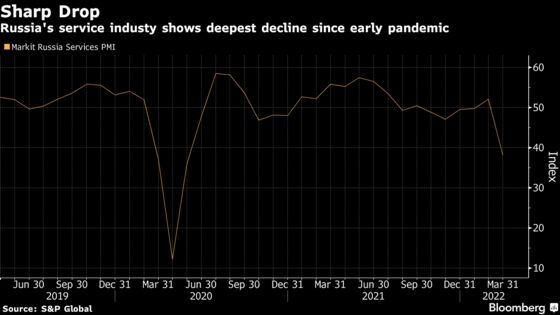 Russia Still Pressing Further in Ukraine's East (9:10 a.m.)
Russia is still focusing its military efforts in the Luhansk and Donetsk regions, the Ukrainian General Staff said in its morning update, targeting the northeastern city of Kharkiv which is under nonstop artillery fire. Russian troops are also hitting industrial infrastructure across multiple towns and have taken control of one village.
The eastern port city of Mariupol is still being heavily shelled. That city has been under siege for weeks with humanitarian groups struggling to deliver aid and civilians unable to leave. There were air raids on Mykolayiv and loud explosions this morning in the Kherson region on the Black Sea.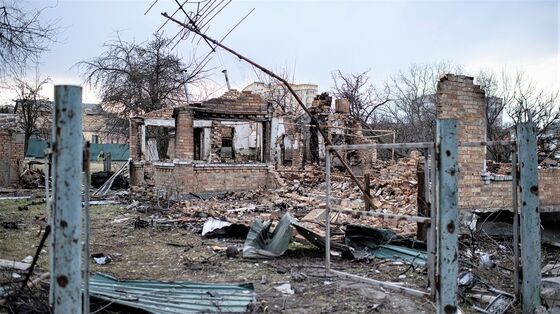 [ad_2]

Source link